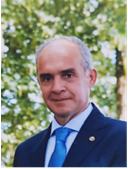 Cesar Briso
Title: A Connected Sky: 6G Communications for UAVs
Abstract:
The integration of UAVs into unify international air space requires the use of advanced communications with high-mobility communication platforms to provide line-of-sight links and further assist the terrestrial communications. 6G aims to provide ubiquitous wireless connectivity for the whole world. However, the demands for high-quality and ubiquitous wireless services impose enormous challenges to existing cellular networks. Unmanned aerial vehicles (UAVs), due to their agile maneuverability, can be dispatched as high-mobility aerial communication platforms to provide high quality links and further assist the terrestrial communications in 6G.Hence, integrating UAVs into 6G networks is a promising solution to achieve such goals. 6G calls for a paradigm on the design of both cellular and UAV communications systems due to the high altitude and mobility of UAVs, the unique channel characteristics of UAV-ground links; the asymmetric quality of downlink and uplink data transmission; weight and power limitations of UAVs; as well as the intra-system and inter-system interference of the integrated networks. In order to provide users with smooth service experience and improve the resource utilization of integrated UAVs and 6G networks
Bio:
Cesar Briso is full professor and director of the Radiocommunications Group at the Technical University of Madrid, SPAIN. He has a 30 -year research trajectory, initially focused on the study and design of circuits and systems of high frequency and radar, and in the last 20 years he has focused on the design and development of wireless communications for transportation systems, especially focused on high speed trains, metropolitan railways and Unmanned aerial Vehicles. On 2010 he started working on wideband channel critical communications using 5G. On this topic he has done relevant research on the last years, making several scientific publications and collaborations with international experts of Europe, China and USA. He has managed 23 national and international research projects and hold two patents on critical communications for transportation systems. Now he is working on the project: "Next Generation Train Communications Systems", inside the Chinese program "The Belt and the Road". He is also author of 40 journal papers and has participated on more than 60 international congresses. He has been editor of 6 Special Issue and 2 books on wireless communications for transportation. He has received 4 National prizes for his research.
Peng Chen
Title: Efficient DOA Estimation Method for Reconfigurable Intelligent Surfaces Aided UAV Swarm
Abstract:
The conventional direction of arrival (DOA) estimation methods are performed with multiple receiving channels. A changeling DOA estimation problem is addressed in a different scenario with only one full-functional receiving channel. A new unmanned aerial vehicle (UAV) swarm system using multiple lifted reconfigurable intelligent surface (RIS) is proposed for the DOA estimation. The UAV movement degrades the DOA estimation performance significantly, and the existing atomic norm minimization (ANM) methods cannot be used in the scenario with array perturbation. Specifically, considering the position perturbation of UAVs, a new atomic norm-based DOA estimation method is proposed, where an atomic norm is defined with the parameter of the position perturbation. Then, a customized semi-definite programming (SDP) method is derived to solve the atomic norm-based method, where different from the traditional SDP method, an additional transforming matrix is formulated. Moreover, a gradient descent method is applied to refine the estimated DOA and the position perturbation further. Simulation results show that the proposed method achieves much better DOA estimation performance in the RIS-aided UAV swarm system with only one receiving channel than various benchmark schemes.
Bio:
In recent years, Prof. Peng Chen has undertaken or participated in 12 national and provincial projects, published 30 SCI-indexed papers (2 ESI highly cited papers), and been granted 10 patents. He is currently an IEEE Senior Member and a CIE Senior Member. He serves as a guest editor for SCI journals, and as a reviewer for many international renowned journals including IEEE TSP, IEEE TWC, and IEEE TVT. He has also served as an IEEE ICCC Session Chair, was recognized as an exemplary reviewer for IEEE WCL in 2021, and won the Best Paper Award at IEEE ICCCCEE 2017. He was invited as a keynote speaker at the IEEE ICET International Academic Conference in 2022, won the Best Presentation Award at the IEEE ICCC Conference in 2022, and was selected as a Science and Technology Vice President of Jiangsu Province's High-level Talent Program in 2019. In 2021, he published the monograph "Optimization and Target Location Method of New Regime Radar", won the third prize of the Jiangsu Science and Technology Award (ranked 2nd), and obtained the Jiangsu Province Excellent Young Scientists Fund in 2022.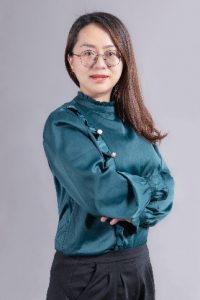 Jingchao Li
Title: Physical layer authentication method for the Internet of Things based on radio frequency signal gene characteristics
Abstract:
Data attacks from illegal access devices of the Internet of Things will cause serious interference and threats to the entire network. It is difficult to ensure the security of the communication system only by relying on traditional application layer password authentication methods. Therefore, it is of great significance to design an effective physical layer authentication system. To effectively identify IoT objects, and prevent the occurrence of problems such as device cloning, replay attacks and user identity impersonation, this report proposes a novel physical layer authentication method for Internet of Things based on radio frequency signal gene characteristics. First, properties and types of radio frequency fingerprint identification technology are described. Second, the shortcomings of existing fingerprint recognition technology based on traditional machine learning are described with involvement of detailed experimental tests. Next, given the limitations of existing methods, extensive literature review from radio frequency fingerprint to radio frequency gene cognition has been made. The concept of gene characteristics of the radio frequency signal is proposed, which is inspired by the biological gene, since the radio frequency signal has materiality, informationality, transitivity, vulnerability and dividability, and these characters are similar to the biological gene. At last, the radio frequency signal gene feature extraction and recognition are explored through simulation analysis and experimental analysis.
Bio:
Jingchao Li is a professor at School of Electric and Information, Shanghai Dianji University, China. In recent years, she has led over 14 technology projects, published over 30 SCI-indexed papers (1 ESI highly cited papers), and been granted over 6 patents. She is currently an EAI Senior Member. She serves as a reviewer for many international renowned journals including IEEE T RELIAB, RELIAB ENG SYST SAFE, and ENERG CONVERS MANAGE. She has also served as a Technical Program Committee Member for INFOCOM MobiSec 2023 and an ICEICT 2019 Session Chair, and won the Best Paper Award at ICEICT 2019. She published two academic monographs. She has won the first prize of Energy Innovation Award of China Energy Research Society, and the third prize of the Shanghai Science and Technology Award. She has obtained the National Natural Science Foundation of China in 2017 and 2021, and Natural Science Foundation of Shanghai in 2022 and Shanghai Rising-Star Program in 2023. And obtained Shanghai Oriental Scholar in 2022.